The well rounded vitreo-retinal diseases and surgery program at Sierra Eye Associates is designed for physicians interested in a private practice setting. Fellows will receive excellent training due to a large surgical volume and busy clinic. Fellows will also receive a highly coveted opportunity to be an investigator in over 20 clinical trials. Our main goal is to train fellows who will be ready to join a private practice with stellar surgical and medical skills and also gain thorough understanding of clinical research.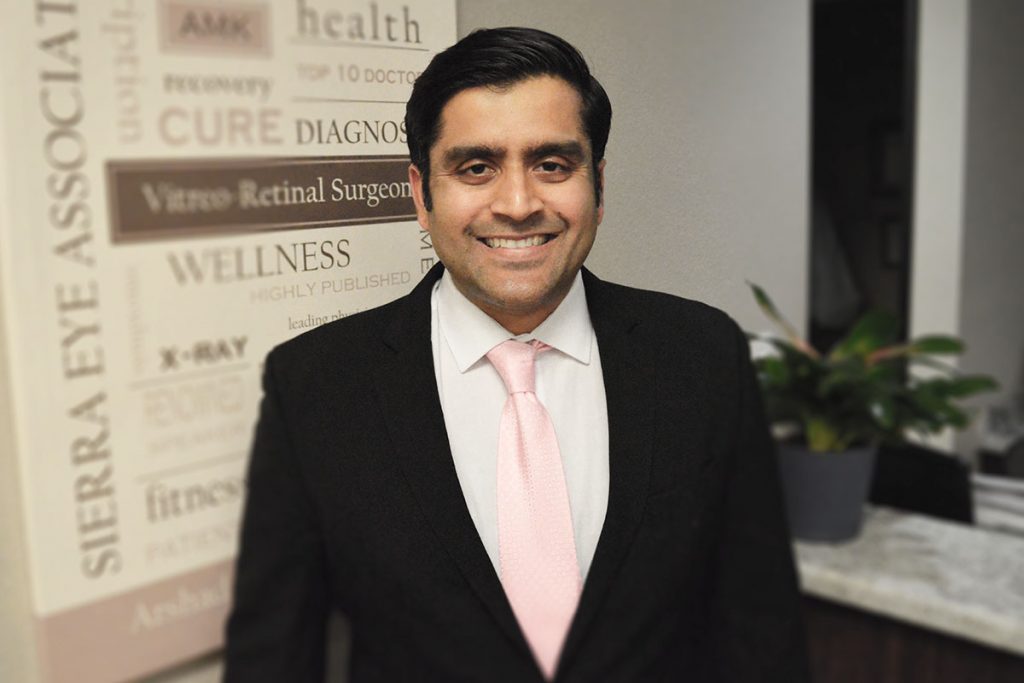 Program Director,
Arshad M. Khanani, MD, MA
Managing Partner
Director of Clinical Research
Director of Fellowship
Clinical Associate Professor at University of Nevada, Reno.
Dr. Khanani is a fellowship trained vitreo-retinal specialist and is certified by The American Board of Ophthalmology. He graduated magna cum laude in chemistry from Washington University in St. Louis with a Bachelors and Masters degree. While at Washington University, Dr. Khanani was honored with The Howard Hughes Medical Institute Research Award.
Dr. Khanani then returned home to Texas and obtained his medical degree at Texas Tech School of Medicine where he received several prestigious research awards. After finishing his internship at Baylor College of Medicine, Dr. Khanani completed his residency in Ophthalmology at Texas Tech School of Medicine. During his residency, he was unanimously elected as Chief Resident.
Dr. Khanani attended The University of Texas – Southwestern Medical Center in Dallas for a two-year fellowship in the medical and surgical treatment of vitreo-retinal diseases.
Due to his strong interest in clinical research, Dr. Khanani has served as a principal investigator for several clinical trials. His articles have been published in numerous ophthalmology journals. Dr. Khanani has also presented his work at major ophthalmology meetings worldwide and has been invited multiple times as a guest speaker nationally and internationally.
Dr. Khanani has received numerous awards of distinction including The Patients' Choice Award and The Compassionate Doctor Recognition Award. He has also been consistently named one of America's Top Ophthalmologists and has also been included in an edition of The Leading Physicians of the World publication.
Dr. Ryan Constantine
Dr. Constantine grew up just outside of Plattsburgh, New York on the shores of Lake Champlain, adjacent to the Adirondack Mountains, where he spent much of his free time.  He completed his undergraduate degree in Biochemistry at Middlebury College in Middlebury, VT graduating cum laude. It was during his undergraduate education where he began to develop his research interests. Dr. Constantine completed his undergraduate thesis using nuclear magnetic resonance to study how certain organic ligands can stereo-chemically control palladium-catalyzed chemical reactions.
Upon graduating from Middlebury College, Dr. Constantine moved to Oakland, California and worked as a medicinal chemist for Chiron Corporation synthesizing numerous small organic molecules to be used as potential anti-cancer therapies. His work resulted in him being named on four patents. Despite his enthusiasm for basic science research Dr. Constantine found that he missed the immediacy of treating patients.
Hoping to combine his love for basic science and improving human health, Dr. Constantine spent nine years earning both his MD and PhD at the University of Utah in Salt Lake City. It was during his graduate training that he began to develop his love of ophthalmology and more specifically the retina. Dr. Constantine's graduate thesis focused on using structural methods, specifically x-ray crystallography, and a multitude of biochemical techniques to elucidate the role of UNC119, a lipid-binding protein necessary for protein trafficking and light/dark adaptation in rod and cone photoreceptors.
Upon completion of his medical school and graduate school training, Dr. Constantine completed his intern year in internal medicine at the University of Utah. He then transitioned to Durham, North Carolina where he completed his ophthalmology residency at the highly regarded Duke Eye Center. Dr. Constantine brings his diverse background and research based experience to Sierra Eye Associates to complete his fellowship training under the tutelage of renowned vitreoretinal surgeon, Dr. Arshad Khanani. Additionally, Dr. Constantine is excited to expand his research experience by participating in the numerous clinical trials that Sierra Eye Associates has to offer its retina patients and to provide compassionate care to the residents of northern Nevada and California.